Yacht Interior Options for Woodinville Residents
The quality of your yacht interior design and installation impacts the pleasure you get from your water vessel.You should settle for nothing less than the best when it is time to install countertops or flooring in yacht kitchens and yacht bathrooms. Allied Marble Granite, Inc. can help you with your yacht interior needs in Woodinville, WA.
Founded in 1982, our company has established itself as one of the finest places to visit for natural stone slabs for flooring, countertops, etc. for yacht kitchens, bars, and bathrooms. We also offer expert services for custom fabrication and installation of yacht interior surfaces.
The yacht bathrooms and kitchens in different vessels have different decor specifications. We cater to all of them by offering a multitude of yacht interior options to Woodinville residents. They can shop with us for many natural stone materials like granite, quartz, marble, and thin porcelain, all in several:
Colors
Veining designs
Textures and finishes
Yacht Bathrooms – Natural Stone Vanities and Showers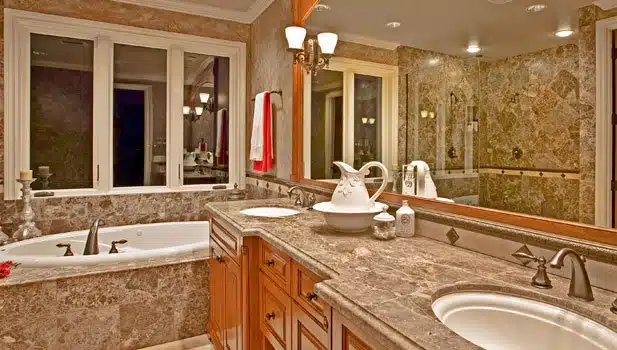 Yachts are meant for pleasure travel on the water. Therefore, redoing yacht bathrooms is invariably done to make them:
Look stylish and sophisticated
Seem lavish and luxurious
Be efficient and highly functional
We specialize in creating plush natural stone vanity units and showers for yacht bathrooms in Woodinville vessels. The fine-quality stone slabs that we offer for installation in yacht bathrooms come from leading quarries all over the world.
Our technicians come up with innovative yacht bathroom design ideas and their exceptional stone work leads to stunning yacht bathrooms that delight our Woodinville customers. Their work also increases the value of the watercrafts they work on.
Woodinville Yacht Kitchens – Countertop and Flooring Options
Another area of your yacht interiors that we can help furnish is the kitchen. We offer a variety of countertop and flooring options in yacht kitchens. Woodinville yacht owners who are looking for top-grade yacht kitchen countertop material to install in the cooking and bar area of their vessel should check out our huge inventory today.
We also offer extensive interior yacht flooring options. The discerning yacht owners who want their yacht kitchens to have the finest countertops and flooring should get in touch with us right away. We also make sure that our stone surfaces for yacht kitchens are:
In sync with the overall yacht interior decor
Ideal for the unique weather conditions yachts operate in
Affordable
a
Call 206-453-2776 to learn more about what Allied Marble Granite, Inc. offers for yacht kitchens and yacht bathrooms in Woodinville.