Limestone Countertops Sammamish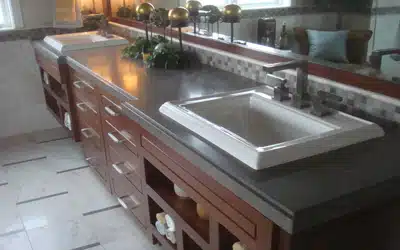 As part of home remodeling, you will want to replace the old, scratched, and stained countertops with something more distinguished and beautiful. Granite and marble have been the preferred stones for kitchen and bathroom remodeling. However, as a cost-effective solution for your countertops, you can choose travertine countertops or limestone countertops.
We at Allied Marble & Granite, Inc. offer superior services for installing limestone countertops for Sammamish, WA area residents. We specialize in fabricating and installing limestone countertops to give your property a beautiful look.
Choose limestone countertops if you are looking to add:
Warmth
Style and elegance
An affordable natural look
When we install your limestone countertops, we not only provide a professional installation we also educate you on how to care for it. This knowledge will help you keep the countertop surface in excellent condition for years. Limestone countertops are available in many different colors which will accentuate your kitchen or bathroom.
Travertine Countertops Sammamish
In addition to limestone countertops, homeowners are also experimenting with travertine countertops. With a look much like marble, travertine is a form of limestone evolving into marble. It is very durable and cost-effective. Travertine, being a porous stone, is ideal for bathrooms as it can soak the excess moisture.
Call us to install travertine countertops in your Sammamish home or office with the belief that we:
Never use pre-cut pieces
Assure seamless installation
Complete the work within the scheduled time
If you are still undecided, give us a call, and our technicians will educate you about the travertine countertops pros and cons. This will help you make an informed choice about investing in travertine countertops.
Sammamish Travertine Tile
Travertine tile is an excellent option for your home's floors and walkways. Travertine has been used in construction for many years. Travertine is characterized by pitted holes and troughs in its surface which means that it has a porous surface. Polished to a smooth, shiny finish travertine tile comes in a variety of colors from grey to coral-red.
Travertine tile will complement most any decor. Choose from a variety of travertine tiles for different areas of your home like the fireplace panels, shower and tub surrounds, and bathroom floors.
Travertine tile looks best when installed correctly and professionally. Trust us to install travertine tile in your Sammamish home:
With utmost efficiency
Using the best materials and equipment
In the most cost-effective manner
Call Allied Marble & Granite, Inc. at (206) 453-2766 when you are considering limestone countertops, travertine countertops or travertine tile for your Sammamish area home or business.