Yacht Interior Options for Issaquah Residents
Owning a yacht comes with several responsibilities. A yacht owner in Issaquah, WA must not only keep the watercraft in top condition mechanically, but also ensure that it has well-furnished interiors. Yachts are associated with luxurious water travel and yacht interior decoration is always expected to be lavish.
We at Allied Marble & Granite, Inc. help Issaquah residents maintain beautiful yachts by assisting them with their yacht interior designing needs. We sell, design, fabricate, and install stone countertops and flooring for yacht bathrooms, yacht kitchens, and bars.
Striving to cater to diverse tastes and budgets for yacht interior countertops in Issaquah, we offer a wide selection of countertop materials, including:
Granite
Marble
Quartz
Tile
Limestone
We stock premium-quality products to ensure that the countertops we install in yacht bathrooms and yacht kitchens or bars create just the stylish yacht interior that our Issaquah customers have dreamed of.
Yacht Bathrooms – Natural Stone Vanities and Showers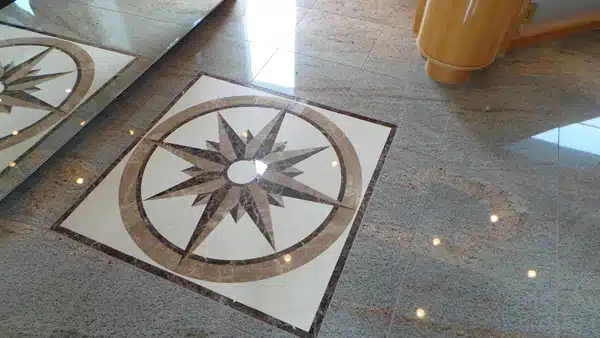 While investing in stone surfaces for yacht bathrooms, Issaquah residents should remember that requirements in watercraft are different from that in standard bathrooms. Here the focus is on installing attractive and durable surfaces, while keeping the weight of these installations to the minimum.
With our extensive experience in yacht interior enhancement, we ensure perfect natural stone installations in yacht bathrooms for our Issaquah customers. The vanity countertops and shower surrounds that we install are a wonderful blend of aesthetics and functionality. We create stone surfaces in Issaquah yacht bathrooms to:
Look stunning
Withstand the environmental elements unique to the sea
Be easy to clean and maintain
Outlast the yacht
Issaquah Yacht Kitchens – Countertop and Flooring Options
All yacht owners in Issaquah want the kitchen and bar area to be done up very tastefully, which is where we can help. Our company offers limestone and tile countertops, as well as flooring. Our objective is to create classy yacht kitchens and bars that our Issaquah customers love and are proud to entertain their guests in. We:
Offer stone imported from leading quarries all over the world
Provide customized services for Issaquah residents to create spaces that suit their yacht
Combine the elegant look of yacht kitchens and bars with ergonomic design
After our custom stone installations in yacht kitchens and bars, Issaquah yacht owners can expect enhanced pleasure while they cruise.
Contact Allied Marble & Granite, Inc. for yacht interior countertops and flooring installations. Issaquah residents can call us at 206-453-2766.