Maple Valley Kitchen Countertops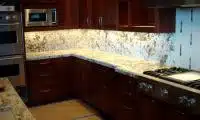 We, Allied Marble & Granite are one of the most reputed flooring companies servicing Maple Valley, WA. We are offering our kitchen countertops services since the year 1982. We provide one of the best kitchen countertops Maple Valley. There are various types of kitchen countertops that you can avail from the market.
Kitchen countertops Maple Valley comes in varied types of colors, designs, styles and textures
You can easily match the kitchen countertops Maple Valley with your house
You can get kitchen countertops Maple Valley in granite or marble
All you need to do is a bit of research work and find out which kitchen countertops will suit with your needs. However, the other factor that you need to keep in mind is the price. Kitchen countertops can be available in various price ranges.
You will have to choose as to which price range suits you the best. One of the best places for you to buy kitchen countertops is from us because we will help you with choosing and also installing it.
Maple Valley Kitchen Backsplash
Kitchen backsplash Maple Valley is another type of material that is being widely used for varied decorative purposes. Kitchen backsplash is mainly used to decorate the kitchen of the house. Kitchen backsplash Maple Valley can be used for decorating in various innovative styles.
We design for you the perfect kitchen backsplash Maple Valley
We will build you a perfect look for your home with kitchen backsplash
Our experts provide a guarantee of satisfaction with the kitchen backsplash Maple Valley
So choose the kitchen countertops, kitchen backsplash, and tile flooring that you feel will match with your home ambiance.
Maple Valley Tile Flooring
Besides kitchen backsplash and countertops, we install tile flooring. Installing tile flooring Maple Valley is an art, and you need professionals like us to handle this task. With our experienced team of professionals, you will be fully satisfied with the quality of tile flooring.
Tile flooring Maple Valley can be availed in various colors and styles
You have a wide variety of tile flooring Maple Valley to suit your requirements
Our experts will help you choose tile flooring according to your house
Tile flooring Maple Valley can be easily availed to match your home ambiance.
Reach out to Allied Marble Granite for getting kitchen countertops, kitchen backsplash, and tile flooring installed in your Maple Valley property by simply calling at (206) 453-2766.