Yacht Interior Options for Queen Anne Residents
Are you a luxury boat owner? We can make your yacht interior even more stylish and elegant with our selection of high quality countertops.
We at Allied Marble Granite, Inc. offer countertop installation services for yacht bathrooms and kitchens in Queen Anne, WA.
Aesthetically appealing and easy to clean, our range of yacht interior countertops for Queen Anne yachts offers protection against mold and mildew growth, making it perfectly suitable for marine environments.
We also have yacht interior countertops available in a wide range of materials, including:
•
•
Rest assured that the countertops in your yacht kitchens and bathrooms will be installed with excellent craftsmanship. By working closely with our clients, we ensure their yacht interior countertops best match their unique requirements and budget.
We invite you to take a look at our yacht kitchen countertop material choices.
Yacht Bathrooms – Natural Stone Vanities and Showers
Natural stone is one-of-a-kind. It blends perfectly with the atmosphere of yacht bathrooms, and we install it with attention to detail and precision.
Whether you are looking to install natural stone vanities and showers in one or all yacht bathrooms, we can help!
When it comes to yacht interior products, we offer our services in a great, cost-effective package. Our friendly, knowledgeable designers are here to help you choose the best material option for your yacht bathrooms in Queen Anne.
We will help you narrow down color and texture choices and choose the right countertop for your yacht bathrooms.
We have a skilled team of installers, ready to install custom vanities and shower surrounds in your yacht bathrooms to your complete satisfaction.
Choose us for our:
•
Cutting-edge installation equipment and methods
Pricing by the foot rather than entire slab
•
The way we treat our clients and their properties with respect
Queen Anne Yacht Kitchens – Countertop and Flooring Options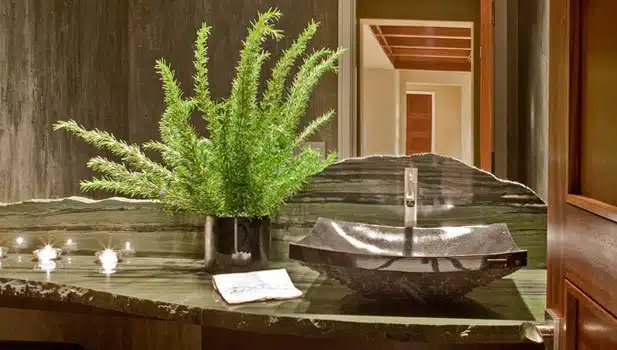 Countertops are the center of attention in yacht kitchens and bars in Queen Anne. We make sure your countertops are a talking point for all your guests! Our range of countertops and flooring for yacht kitchens and bars in Queen Anne seamlessly blend visual appeal with functionality.
Highly durable and incredibly low maintenance, our countertops and flooring for yacht kitchens are an ideal option for areas exposed to:
•
•
Contact Allied Marble Granite, Inc. to find out how we transform your yacht kitchens and bars in Queen Anne. Call us at 206-453-2776 to receive a FREE estimate.