Madison Park Commercial Countertops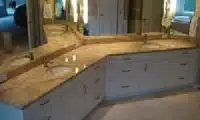 Look no further than Allied Marble Granite, Inc. when it is time you need custom countertops for your hotel or restaurant in Madison Park, WA. We established our facility in 1982 to offer different types of countertop materials as well as to design, make and install commercial countertops in Madison Park properties.
We have come to be recognized as a foremost provider of custom countertops for installing in restaurants and hotels. We can provide commercial countertops to Madison Park hotels/restaurants for meeting several purposes. Our customized commercial countertops offer excellent application as butcher blocks, tables, bar counters, reception desks, etc.
We can take up any big or small job for installing commercial countertops in Madison Park. Whether catering to a small eating joint or an upmarket hotel, we deliver quality commercial countertops that offer the best in:
Countertop materials
Fabrication craftsmanship
Installation finesse
Product/service pricing
Madison Park Countertop Materials
We also provide custom countertops for office use. Businesses are forever looking for ways to control costs and optimizing returns from their investments. We know this and offer commercial countertops made of premium-quality countertop materials for Madison Park offices.
It is our endeavor to use countertop materials that help create highly functional, sturdy and durable countertops. We work with superior natural stones and our options in countertop materials for Madison Park offices include:
Marble
Granite
Thin Porcelain
Quartz
The countertops materials that Madison Park offices can get from are procured from leading stone quarries from different parts of the world. Our countertop materials are available in a variety of colors and designs to suit different office décor needs.
Madison Park Custom Countertops
Choose us to make custom countertops for your Madison Park business and rest assured of a thoroughly satisfying project. We offer everything you could possibly expect from the professionals you go to for custom countertops in the Madison Park area. Count on us for:
Prompt and polite attention
Correct measurement to determine dimensions of required countertops
Seamless crafting and installation of your custom countertops
Use of fine countertop materials and cutting-edge equipment
Helpful customer service all through the job
After working with us once, you will choose only us whenever you again need custom countertops for your Madison Park business.
Need quality commercial countertops at fair prices in Madison Park? Call Allied Marble Granite, Inc. at (206) 453-2766.