Granite Fabricators for Home and Business Granite Projects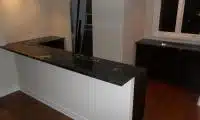 If you are tired of the dull and boring look of your kitchen or bathroom and want to change its appearance, replacing counter tops with granite slabs is the great option. Looking for a company that can help you do that? You just found it! Allied Marble Granite Inc. is one of the most reliable granite fabricators that offer high-quality granite fabrication for Sammamish, WA residents. As one of the leading granite fabricators, we offer quality granite fabrication that will make your home:
Look beautiful
Increase its value
Become more functional
Granite as a material is a quality product that requires minimal maintenance. It adds to the beauty of any home when installed with precision and care. Choosing the right granite fabricators in Sammamish is the key that will give you the customized look you want in your kitchen or bath.
Granite Fabrication for Sammamish Bathroom and Kitchen Countertops
Granite, when used as countertops in bathrooms and kitchen, will bring incredible beauty to your space. However, because of the variety of options and colors available choosing the right look can be a difficult task. We offer consultation to assist with you when picking out your granite slabs. You should choose us for granite fabrication in Sammamish as we are:
Experienced
Affordable
Established
Professional
As a granite fabrication company with a solid reputation, we follow the correct countertop fabrication process so that the countertops will add beauty and great functionality as well.
Affordable Granite Slabs in the Sammamish Area
There might be several granite fabricators offering granite slabs in Sammamish. However, you need to find a reasonably priced and experienced company that can provide high-quality installation of the granite slabs. You should choose affordable granite slabs in the Sammamish area on the basis of the following:
We offer you a wide choice of granite colors, from the most popular to the most unusual. We work closely with you, understanding the look you desire and the budget you have set for the project. Working with our consultants you will find the right color at the right price.
If you are considering any kind of granite fabrication work in Sammamish and you want the assistance of professional granite fabricators, you should call Allied Marble & Granite Inc. at (206) 453-2766. Our representatives are here to help you.