Ballard Granite Fabricators
Are you looking for exceptional granite fabricators in Ballard, WA? No need to look any further than Allied Marble & Granite, Inc. for the installation, design, and fabrication of granite.
Our company has years of experience offering custom solid stone solutions for countertops in kitchens, bathrooms, and even fireplaces.
Turn to our Ballard granite fabricators, explain your requirements, and watch our designers quickly turn your place into an aesthetically pleasing space.
Create a masterpiece for your home with the assistance of our Ballard granite fabricators. We possess the right skills and team of highly knowledgeable Ballard granite fabricators to offer exceptional services anytime.
Feel free to connect with our team when looking for:
Stone fabricators
Countertop fabricators
Custom marble & granite
Granite countertop company
Book an appointment with Allied Marble & Granite, Inc. to hire Ballard granite fabricators.
(206) 453-2766
Ballard Granite Fabrication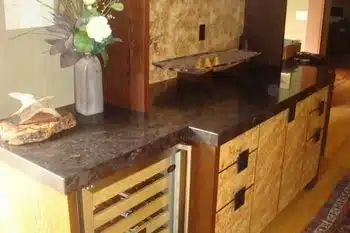 Ballard granite fabrication is a process where a raw stone is carefully turned into a beautiful and sturdy granite.
Our company follows an exact procedure for fabrication, allowing them to custom-make countertops that go best with the interior of your home, office, or commercial property.
We can easily offer you the most precise and exceptional Ballard granite fabrication in the industry. Don't think twice and connect with our team of highly specialized experts today!
Unearth the beauty within your homes with Ballard granite fabrication. Our professionals know the precise process of Ballard granite fabrication and can give your residence a 360-degree makeover with superb solutions.Reach out for:
Custom countertop fabrication
Marble countertop fabrication
Fabrication of granite countertops
Marble and stone fabricators
Reach out to Allied Marble & Granite, Inc. for Ballard granite fabrication.
(206) 453-2766
Ballard Granite Slabs
A slab made of granite is prone to grab the attention of anyone instantly. These slabs are always considered a masterpiece, alleviating the feel of the house, and even boosting value.
Do you want to reap such benefits too? We have hundreds of Ballard granite slabs to choose from or design from.
Not only that, but our experts will also ensure that the Ballard granite slabs are correctly installed on your property after giving the last touch-ups.
We are here to offer perfection with our Ballard granite slabs. Feel free to connect with our professionals to design and install the most durable Ballard granite slabs for your residential or commercial property.
We will offer high-quality:
Granite stone, for kitchen price
Granite stone slab
Countertop slabs for sale
Fireplace granite slab
Call Allied Marble & Granite, Inc. today to get superb Ballard granite slabs.
(206) 453-2766