Limestone Countertops for Lake Stevens Residents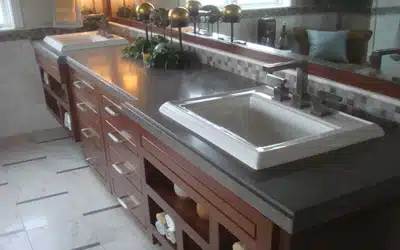 If the existing countertops of your kitchen or bathroom have become dull and drab and you are looking forward to changing them, you may like limestone countertops. You must choose the experts for their installation, however, as this will ensure longevity and quality.
Allied Marble & Granite, Inc. is a recommended company that offers high quality services for limestone countertops for Lake Stevens, WA residents. As an established company, we recommend the use of limestone countertops as they are:
Aesthetically beautiful
Affordable
Durable
Low maintenance
You can rely on our trained and skilled technicians for thorough services related to limestone countertops. We offer a large variety of limestone countertops colors that enable you to choose the best ones for your home.
To ensure that you are getting the best deal, you can compare our limestone countertops cost with others.
Travertine Countertops for Lake Stevens Homes & Businesses
If you are skeptical about using limestone countertops, you can choose travertine countertops as they are as good as limestone, but more durable and more affordable. Comparing the travertine countertop pros and cons with other materials will help you ensure that you are choosing the best material.
We have been offering services related to travertine countertops for the residents of Lake Stevens for a long time. You can rely on us for services for travertine countertops as we use the best:
Equipment
Techniques
Material
Workforce
We also offer travertine countertop maintenance. You can choose travertine countertops and travertine tiles in bathrooms, pillars, home countertops and as backsplashes.
Travertine Tile – Floors & Bathroom Surrounds in Lake Stevens
With the plethora of companies offering installation of travertine tiles in Lake Stevens, choosing the best one can be a daunting task. Nevertheless, since it is about the beauty and value of your home, you should always choose the experts.
You can consider the following factors to find the best company for travertine tiles:
Years of experience
Skilled workforce
Quality of equipment used
Pricing structure
We are the ideal company to choose for the installation of travertine tiles in Lake Stevens as we excel in all of these areas. We provide adequate travertine tile care and related services. You can talk to our consultants to know more about our travertine tile cost.
You can call Allied Marble & Granite, Inc. at (206) 453-2766 for any services related to limestone or travertine countertops in Lake Stevens.