Woodinville Bathroom Vanities
Allied Marble & Granite, Inc. is the go-to expert for designing and installation of bathroom vanities in the Woodinville, WA area. Vanity install makes an excellent addition to the aesthetics, as well as functionality of the bathing space. This is one of the most heavily used areas of any property.
Since setting up the company, we have worked hard to become one of the leading local natural stone contractors. Our many capabilities include making Woodinville bathroom vanities.
We are equipped for fulfilling both residential and commercial requirements for bathroom vanities Woodinville. Offering comprehensive services, we fabricate and install Woodinville bathroom vanities of different types. These include:
Floating vanity
Corner vanity
Bathroom vanity with sink
Single sink vanity
Double sink vanity
Call Allied Marble & Granite, Inc. for bathroom vanities Woodinville!
(206) 453-2766
Woodinville Bathroom Vanity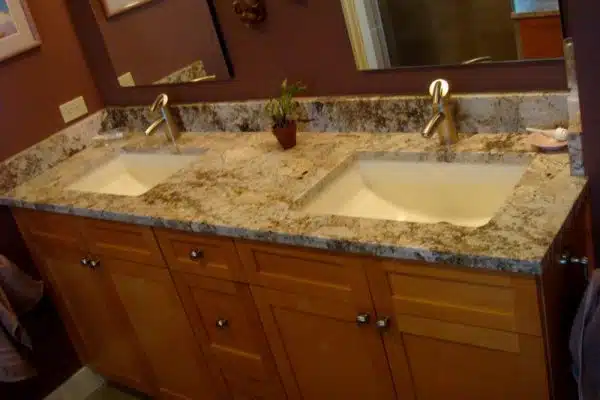 We cater to diverse preferences for a bathroom vanity Woodinville. Granite, marble, quartz and limestone are some of the materials with which we can make bathroom vanities, depending on the budget and project design requirements of our customer.
Get in touch with us to discuss the specifications for your Woodinville bathroom vanity installation project. Our experts can even guide you in choosing the most suitable material for the bathroom vanity Woodinville by educating you about the pros and cons of each available option.
Count on us to work along your precise instructions for creating a Woodinville bathroom vanity that is just the thing you had hoped for. Our commitment to precision shows in every component, including the:
Vanity sink
Bathroom sink cabinets
Vanity counter
Custom vanity tops
Call Allied Marble & Granite, Inc. for bathroom vanity Woodinville!
(206) 453-2766
Woodinville Vanity Install
No job for vanity install Woodinville is too big or too small for us. We value the business we get and work with utmost diligence on every project that comes our way for Woodinville vanity install.
Whether you want a simple, small vanity installed in the basement bathroom or need several bathroom vanities installed in your hotel, we are here to serve. We assure you of a vanity install Woodinville done with top-grade materials and flawless workmanship.
You can also trust us to complete the Woodinville vanity install in the least possible time and at a fair price. Do let us be your first and only call for:
Installing a new vanity
Installing vanity top
Replacing a pedestal sink with a vanity
Replacing vanity top
Call Allied Marble & Granite, Inc. for vanity install Woodinville!
(206) 453-2766