Quartz Countertops Add Value and Beauty to Kent Homes
For high quality installation services and materials for kitchen quartz countertops in Kent, WA, Allied Marble, Inc. is the company to call. Started by brothers Magic and Quang Mai in 1982 in Bellevue, the company moved to Seattle after 8 years when they purchased a quartz counter fabrication facility.
The Mai brothers used their experience gained while working for their father in his quartz counter installation business in Asia and turned our company into one of the most renowned and reliable providers of kitchen quartz countertops in the Kent area.
If you are looking for a quartz counter in Kent, we are the company to call as we have only top-of-the-line kitchen quartz countertops in our inventory. Our high-quality kitchen quartz countertops can make your Kent home look beautiful and also increase its resale value in case you decide to sell your home in the future.
We offer services in Kent that include the following:
Installation of kitchen quartz countertops and backsplashes
Installation of bathroom vanities and floors
Installation of quartz bathtub surrounds
Renew al of existing kitchen quartz countertops
We also offer free estimates to help you learn what your Kent home needs and how much a quartz counter will cost.
Quartz Counter Design and Installation in Kent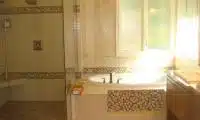 Deciding what type of quartz counter to get for your home can be tough, especially when there are so many different materials and designs available. One of the perks of doing business with us is the design team we have to help you when you have doubts about which type of kitchen quartz countertops would look best in your Kent home. They will help you choose the perfect style and texture of kitchen quartz countertops to add visual appeal and value to your home.
We also have one of the best teams of technicians in our company. They are highly-trained and experienced and will always work efficiently to make sure that they install a perfectly-fitted quartz counter in your Kent home.
With precise measurements and skillful hands, they will always install each and every tile or slab to make sure that there are never any flaws in your kitchen quartz countertops.
We have no doubt that you will be 100% satisfied with our kitchen quartz countertops.
Ask our design and installation team to help you choose any variety of the following options:
Styles
Sizes
Colors
Textures
Kent Kitchen Quartz Countertops * Bathroom and Vanities
You can have a high-quality quartz counter installed in your Kent home with Allied Marble, Inc. You can also have bathroom vanities, tub surrounds, kitchen backsplashes, and floors of the most superior quality at rates that are very affordable. With us, you can have:
Skilled professionals for all types of quartz counter installations
Efficient and quick services on all kitchen quartz countertops
Friendly staff always willing to help with your quartz counter design and installation
For a free estimate on your quartz counter project, call us at 206-453-2766 today! We look forwarding to providing you with a new quartz counter for your Kent home.