Yacht Interior Options for Redmond Residents
Allied Marble & Granite, Inc. takes pride in offering the finest quality yacht interior countertops to Redmond, WA luxury boat owners. Our selection of yacht interior countertops is:
•
Mold and mildew resistant
•
Easy to maintain and clean
Our range of yacht interior countertops is designed to stand up to the everyday wear and tear that your interior spaces experience during the spring and summer season.
With very little maintenance, your yacht interior countertops can last for years to come.
We can custom-cut your yacht interior countertops to take the exact shape and form you desire. We can also fabricate and install your yacht interior countertops with excellent workmanship.
Yacht Bathrooms – Natural Stone Vanities and Showers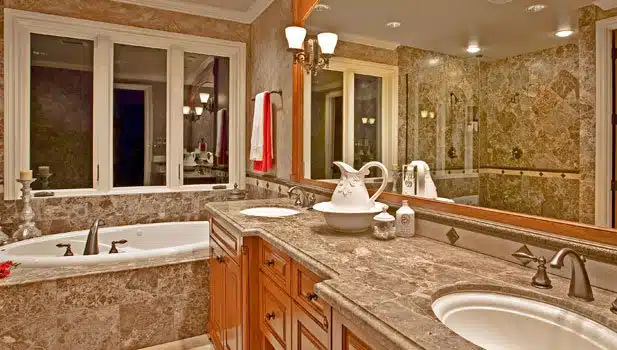 Yachts are synonymous with luxury. From their beautiful exterior to the beautiful bathrooms, these luxury boats reflect elegance.
With the ability to create and install custom vanity tops and shower surrounds, we can take your yacht bathrooms in Redmond to an entirely new level.
Whether you are looking to add granite, marble, quartz, or natural stone to your yacht bathrooms, we can bring your dreams into reality.
Our professional team is well-known for transforming luxury boats with design capabilities that meet the aesthetic and functional needs of yacht bathrooms.
With such a wide range of materials, getting the yacht bathrooms you've always wanted has never been so easy. Bring us your ideas and our friendly, helpful team we create something extraordinary for your yacht bathrooms in Redmond. We are known for:
•
•
•
•
•
Redmond Yacht Kitchens – Countertop and Flooring Options
We are dedicated to offering top-notch countertop and flooring options for yacht kitchens and bars in the Redmond area.
Our highly skilled and experienced team, combined with our high quality materials, ensure you receive attractive and long-lasting countertops and floorings for your yacht kitchens and bars in Redmond.
Our selection of countertops and floorings for yacht kitchens is available in a wide variety of colors, styles, and textures to match virtually any design and budget needs. We have the resources and expertise to find the countertop and flooring options that best match your unique yacht kitchens and bars.
Our yacht kitchen countertop selection includes:
•
•
•
If you have any questions about our selection of countertops and floorings for yacht kitchens and bars in Redmond, please call Allied Marble Granite, Inc. at 206-453-2776.