Granite Fabricators for Home and Business Granite Projects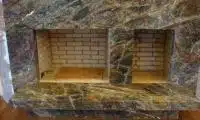 Seamless granite fabrication is the crucial first step towards a successful granite project. One of the most popular natural stones, granite is used extensively in several applications in both residential and commercial settings.
The key reason behind the preference for granite slabs for flooring, countertops, backsplash, etc. is the touch of grandeur their use gives to the surrounding décor. However, the magnificent look of granite installations depends a great deal on the finesse in granite fabrication. It is important to hire skilled granite fabricators to work on your granite project.
Allied Marble & Granite Inc. is the name to trust when you need the services of granite fabricators in Auburn, WA. Since 1982, we have been offering premium granite slabs and custom fabricating them for diverse uses. We have skilled and experienced granite fabricators working on your Auburn granite project so that it is completed:
Successfully
On-time
To your full satisfaction
Granite Fabrication for Auburn Bathroom and Kitchen Countertops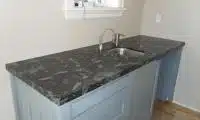 The majority of jobs handled by our granite fabricators in Auburn involve making bathroom and kitchen countertops. Being seasoned professionals, they make sure to work with meticulous attention to detail throughout the countertop fabrication process.
The quality of workmanship in granite fabrication goes a long way in determining the aesthetic appeal and durability of the countertops being made. Consequently, our granite fabricators are extremely diligent while cutting, shaping and finishing the countertops. Their careful, neat and smooth granite fabrication assures Auburn property owners of countertops that are:
Made in the precise shape and dimensions
A perfect fit in the designated countertop space
An excellent addition to the kitchen/bathroom
Call us today for a free estimate of granite fabrication cost and get your countertop project started.
Affordable Granite Slabs in the Auburn Area
While offering the services of competent granite fabricators, we also help you ensure that the best materials are used on your granite project. We offer you a vast selection of granite slabs to choose from. Our inventory of granite slabs for Auburn customers is:
Of fine quality
Sourced from leading quarries all over the world
In an array of rare as well as most popular granite colors
With unique veining patterns
One of the best things is that our granite slabs are quite affordable. We keep the prices competitive so that everyone can enhance their properties with an installation made of our premium granite slabs.
Call Allied Marble & Granite Inc. at (206) 453-2766 for granite fabrication services in Auburn.