Issaquah Commercial Countertops
Any Issaquah, WA area hotel or restaurant needs to create a certain ambience based on the clientele they cater to. Allied Marble & Granite, Inc. can be your Issaquah area partner in the creation of commercial countertops for your establishment. Custom countertops of different countertop materials can provide varying looks that can enhance the aesthetics of your Issaquah area interiors.
Our custom countertops are aimed at either complimenting or enhancing the décor of your Issaquah area hotel or restaurant. With our extensive inventory of countertop materials, you can have all the options available to you when choosing your preferred commercial countertops. With the custom countertops made from your chosen countertop materials, your commercial countertops won't be out of place in your hotel or restaurant.
Commercial countertops can create thematic synergy for your Issaquah area business
Countertop materials used for custom countertops can fit most interiors
Custom countertops can bring your vision to life
Issaquah Countertop Materials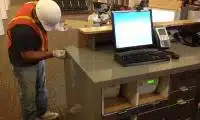 Office spaces can become a drab affair. Spruce up your Issaquah area corporate spaces with our diverse options of countertop materials. Your new installation of commercial countertops could be the difference between a boring office and a dynamic Issaquah area workplace.
Issaquah area offices look better with quality commercial countertops
Choice countertop materials can provide visual diversity and flexibility
Mix and match countertop materials to create your custom countertops
Our commercial countertops are made from strong countertop materials so these installations are built to last. Your custom countertops are not only meant to look fancy but also provide a good amount of potential functionality commercial countertops usually provide. With these custom countertops built to your specifications, you no longer have to sacrifice function over form with your commercial countertops installed in your Issaquah area establishment.
Issaquah Custom Countertops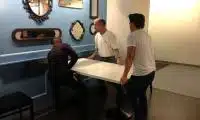 Allied Marble & Granite, Inc. takes pride in the quality of all the custom countertops we have created over the years. We have dealt with an extensive variety of countertop materials for thousands of custom countertops, so no project is ever too difficult. If you decide to choose us as your provider of commercial countertops, we give you:
100% satisfaction guarantee for all orders of commercial countertops
Custom countertops that are designed to your exact specifications
Countertop materials used in the fabrication that are of excellent quality
An extensive portfolio of different countertop materials to help you achieve your vision