Granite Fabricators for Home and Business Granite Projects
When you decide upon a project for granite installations in your residential or commercial property, partnering with Allied Marble & Granite Inc. is the best way of ensuring its successful completion. From supplying the perfect granite slabs for the job to making field measurements to doing granite fabrication to installing the completed stonework, you can leave everything to us.
We are one of the leading custom granite fabricators in the Medina, WA area. Our state-of-the-art facility has been meeting the granite fabrication needs of home and business owners since 1982. Over all these decades, our granite fabricators have exhibited their exceptional skills by completing countless granite projects to the highest specifications.
With our granite fabricators, Medina residents can rest easy that their stone will be:
Cut to the exact size and shape required
Flawlessly crafted as regards details like special angles, radius cuts or sink holes
Polished beautifully
Granite Fabrication for Medina Bathroom and Kitchen Countertops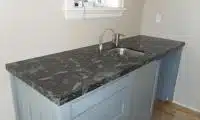 Are you wondering – how can I find expert granite countertop fabricators near me? Relax; you have just found them! Your search for quality granite fabrication services in Medina for a kitchen or bathroom countertop project ends with us.
Our granite fabricators specialize in making countertops and vanity tops. You can trust them to shape your chosen granite slabs into elegant countertops that are a perfect fit over your bath or kitchen cabinets and counters. All our granite fabrication work is done:
By experienced and diligent professionals
With sharp attention to detail
Using advanced tools and machines
What are you waiting for then? Call today to let us to learn how our granite fabricators can help you and ask us for a free estimate on granite fabrication cost for your Medina countertop project.
Affordable Granite Slabs in the Medina Area
The final outcome of our granite fabrication services depends a lot on the quality of granite slabs we work on. Our facility stocks top-grade stone products so that our customers have the finest possible installations in their homes or business establishments.
However, we believe that good quality should not be difficult to afford. We offer granite slabs to Medina residents at competitive prices. You can easily get slabs in the most popular granite colors and exquisite veining to:
Match your project requirements
Make a wonderful addition to your property
Give you aesthetic pleasure
Allied Marble Granite Inc. is the place to come for fine-quality granite slabs and expert granite fabricators. Medina residents can call us at (206) 453-2766.