Thin Porcelain Tile – Shoreline Home Business Installations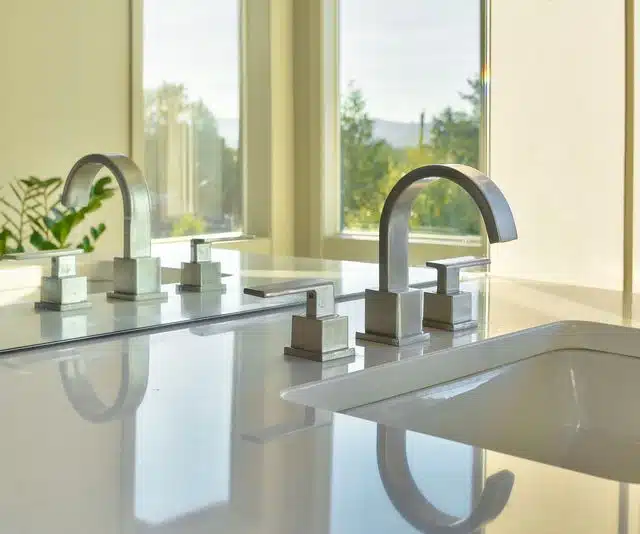 Are you interested in going beyond conventional stone surface materials and opting for installation of thin porcelain tile in your Shoreline, WA home or business place? Allied Marble Granite, Inc. can help.
Our company has been one of the leading suppliers and installers of natural stone surfaces in the community since 1982.
Throughout the years, we have continually added to our capabilities so that our customers have access to the newest and most innovative products on the market.
After the introduction of thin slab porcelain in 2010, we have been offering thin porcelain tile to Shoreline residents for installation in residential and commercial properties.
You can get premium-quality thin porcelain tile and porcelain panels from us for new construction as well as remodeling projects.
We also provide the services of trained technicians to get the thin porcelain tile and panel installations done:
•
Neatly and professionally
•
Porcelain Panels for Shoreline Exterior and Interior Designs
Thin porcelain panels and tiles are loved by architects, designers, contractors, and property owners alike. This is because it replicates the rich looks of natural stone, but thin slab porcelain cost is considerably lower.
Another key factor contributing to increasing usage of porcelain panels and tiles by Shoreline residents is the amazing versatility of the material.
You can use thin slab porcelain panels for numerous interior and exterior designs, from flooring to accent walls, fireplace surrounds, exterior walls, tub/shower surrounds, vanity countertops, kitchen backsplashes, to hospital, aircraft, yacht, and RV surfaces.
We help maximize the design possibilities for our customers by offering them porcelain panels in a multitude of:
•
•
Thin Slab Porcelain Has Many Benefits for Shoreline Residents
The great thing about a thin porcelain tile or panel is that it is quite lightweight and can be installed without removing the existing surface. This makes the installation of a thin slab porcelain on Shoreline properties quite fast and easy.
The material is very resilient and can withstand heavy use.
It does not need sealing and retains its polished finish for many years. Using thin slab porcelain provides property owners surfaces that:
•
Have a stylish yet practical timeless appearance
•
Resist heat, stains, and germs
•
Present no hassle in cleaning and maintenance
You will be thoroughly satisfied with your investment in thin slab porcelain installation, and you'll have beautiful surfaces that increase your return on investment exponentially.
Call Allied Marble Granite, Inc. at 206-453-2766 to discuss your requirements for thin porcelain tile or porcelain panels in Shoreline.