Granite Fabricators for Home and Business Granite Projects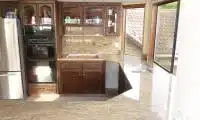 At Allied Marble Granite, Inc., we provide granite fabrication services to Woodinville, WA residents. This means, our granite fabricators help our Woodinville customers choose the right granite slabs, custom cut and install them at their property. We will work with you to find the granite slab that is best for your project and your budget. We are granite fabricators with state-of-the-art equipment, specializing in excellent custom workmanship.
Our granite fabricators serve both homeowners and commercial property owners. As experienced granite fabricators, we can fabricate and install granite in:
•
Kitchens and bars
Vanity tops
Bathrooms
Shower surrounds
Let our granite fabricators turn your vision into a reality. No matter how big or small your needs may be, we have the knowledge and experience to lead you through any project with the peace of mind that the work will be done to your complete satisfaction.
Granite Fabrication for Woodinville Bathroom and Kitchen Countertops
Turn your property into a work of art. Rely on us for your granite fabrication needs in Woodinville. We have a team of expert granite fabricators to measure your project and cut your stone to size. We give close attention to detail to ensure the granite fabrication work is done to your exact specifications.
Customer service is very important to us. We strive to make the granite fabrication and installation process as hassle-free for you as possible by:
•
Quickly responding to your needs
Keeping flexible appointment to match your schedule
Ensuring the job gets done correctly, the first time
Affordable Granite Slabs in the Woodinville Area
Are you looking to spruce up your home or business with your granite slabs? Let us help! Serving granite slabs in Woodinville and its surrounding areas, we offer the top quality products and services.
Whether you are remodeling your bathroom, kitchen or bar area, we offer granite slabs in a wide range of colors and patterns. Our affordable granite slab prices mean we have something for every budget. With years of experience, our team is ready to provide customers with outstanding fabrication and installation of granite slabs in Woodinville.
Here are a few reasons to choose us:
•
Huge inventory of natural stone
Free estimate of the cost
Fabrication is done by hand
Installation with minimal disruption
For more information on our granite fabrication services for Woodinville homes and businesses, do not hesitate to call Allied Marble & Granite, Inc. at (206) 453-2766. We look forward to working with you!