Granite Fabricators for Home and Business Granite Projects

Planning a granite project? If yes, then the two things uppermost in your mind are sure to be where to shop for granite slabs and how to find expert granite fabricators catering to the Issaquah, WA area. Do not worry! Simply contact Allied Marble & Granite Inc.
We are a one-stop shop offering the perfect solutions for all your granite needs. While our facility stocks a large selection of granite slabs for you to choose from, we also offer the services of highly skilled granite fabricators to shape those slabs into the structures that you want.
Exceptional skills and steadfast commitment to doing a quality job have made us the preferred granite fabricators of all Issaquah residents. We provide granite fabrication services to:
•
Homeowners
Business owners
Builders
General contractors
Architects
Interior decorators
Our granite fabricators can handle any big or small project. Call us today to discuss your granite fabrication needs.
Granite Fabrication for Issaquah Bathroom and Kitchen Countertops

We have been delivering granite fabrication services in Issaquah since 1982. Much of our granite work has been making custom countertops. You can count on us for superior granite fabrication services that result in the beautifully crafted kitchen or bathroom countertops for your property.
Our granite fabricators work hard at every step of the countertop fabrication process. The various tasks done by our granite fabrication crew include:
•
Measuring the countertop space carefully
Cutting out countertops in the right dimensions
Creating customer-approved edge profiles
Smoothening out the perimeter to remove sharp corners
Giving a good finish to create a sleek and elegant countertop
Get in touch with us for a free estimate on granite fabrication cost and get your Issaquah countertop project started!
Affordable Granite Slabs in the Issaquah Area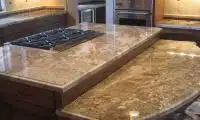 We offer high-quality granite slabs for Issaquah residents at fair and affordable rates. The discerning home or business owners who want to use only the finest materials on their granite project but are limited by budget considerations need not worry. We have just the superior granite slabs they want, at just the granite slab prices that they can afford.
Our company also strives to offer products to meet diverse tastes and décor requirements. We stock slabs in:
•
Most popular granite colors
Dark and light hues
Exotic and more commonly seen veining patterns
To learn more about the granite slabs available with Allied Marble & Granite Inc. and to schedule the services of granite fabricators, Issaquah residents should call (206) 453-2766.