Edmonds Commercial Countertops
Add a bit more flair to the customary aesthetics of your Edmonds, WA area establishment through the installation of custom countertops. With the right design and look of the countertop materials, your commercial countertops can easily provide your Edmonds area place of business a visual boost. Allied Marble & Granite, Inc. will fabricate custom countertops that will add value to your place of operations.
Custom countertops are a sound investment for any Edmonds area business. With the right countertop materials, your commercial countertops will provide a visual update to the surroundings. Edmonds area businesses are sure to benefit from the procurement of commercial countertops:
Commercial countertops are a good fit for hotel and restaurant aesthetics
Countertop materials used for custom countertops can deal with constant usage
Commercial countertops require less maintenance
Edmonds Countertop Materials
Regardless of whatever form of business you own in the Edmonds area, Allied Marble & Granite, Inc. will make sure you'll have the right commercial countertops for you. Made from quality countertop materials, custom countertops will spruce up your Edmonds area place of business. Its need for less maintenance due to the nature of the countertop materials used to fabricate commercial countertops means that you save money in the long run.
There are several benefits to installing custom countertops with quality countertop materials. Your Edmonds area business will find that that:
Countertop materials aesthetics can enhance the business environment
Custom countertops can fit any Edmonds area office configuration
Commercial countertops are a good mix of form and function
Edmonds Custom Countertops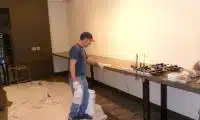 You can rely on our decades of experience in the field of fabricating custom countertops and sourcing for countertop materials. We believe that the key to manufacturing long-lasting commercial countertops is through the use of excellent quality countertop materials. Over the years, we have developed networks to provide us with only the best countertop materials for use for all our orders for custom countertops from our Edmonds area clients.
If you require a suite of commercial countertops needing your exact specifications, you can rely on us to deliver on what is required. There is no denying that working with us for these specific needs can only result in an excellent customer experience since we:
Design custom countertops based on your exact specifications
Use only high quality countertop materials sourced from all over the world
Are experts in fabricating commercial countertops
Execute precision installation of custom countertops