Medina Commercial Countertops
Do you own a hotel or restaurant in Medina, WA? Are you planning to get custom countertops installed in your property? Get in touch with Allied Marble Granite, Inc. if you want the finest in commercial countertops available in Medina and the best experience possible with the entire project.
We have been providing commercial countertops to Medina restaurants and hotels since 1982. A one-stop shop to meet all your needs for custom countertops, we can:
Assist you with choosing the right countertop materials
Help in selecting the color design of countertop materials to suit hotel décor
Design the shape and edge of your custom countertops
Fabricate the commercial countertops for your Medina hotel/restaurant
Install your commercial countertops, ensuring a perfect fit
Medina Countertop Materials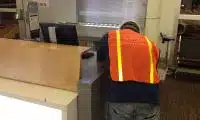 Apart from hotels and restaurants, other businesses can also source commercial countertops from us. We install countertops made of natural stone countertop materials in Medina offices.
Whether you are a small local business or a big company with national presence, trust us to offer nothing less than the best in countertop materials for your Medina office. We go all out to provide you with countertop materials that make a worthwhile purchase from every aspect, including:
Aesthetical appeal
Durability
Affordability
At our facility, we have a large inventory of countertop materials in an array of colors and patterns. These comprise slabs of granite, marble, quartz, limestone and many other natural stones, all sourced from different parts of the world.
Take your pick from our selection of countertop materials for Medina offices and get natural stone commercial countertops that make your work place more efficient and sophisticated.
Medina Custom Countertops
Entrust the job for custom countertops in your Medina business place to us. You will be glad you did so!
A few features that set us apart from the other fabricators and installers of custom countertops in Medina include:
Have honest work ethics
Price jobs by foot, not the entire slab
Have invested in skilled crew and advanced machinery
Committed to providing seamless services
Prioritize customer convenience and satisfaction
With us, you can relax in the knowledge that the investment in custom countertops for your Medina business has been put to the best possible use.
Medina businesses that appreciate quality get their commercial countertops made and installed by Allied Marble Granite, Inc. Call (206) 453-2766 to discuss your project for custom countertops.