Limestone Countertops Normandy Park
Thinking of giving your home a new and improved look but are not sure of how to go about it? Choose travertine or limestone countertops for your home and get the beauty and value that you want for your home.
Residents have long trusted Allied Marble Granite, Inc. for installing limestone countertops in Normandy Park, WA. Let us show you how to transform your home into a stylish haven with the use of limestone countertops.
We offer a large variety of limestone countertops in various:
Colors
Textures
Tones
Price ranges
In addition to helping you with the choice of limestone countertops color and texture, we will provide all care tips so that your countertops serve you for a long time. For something more durable than limestone but cheaper than marble or granite, travertine countertops may be the best bet.
Travertine Countertops Normandy Park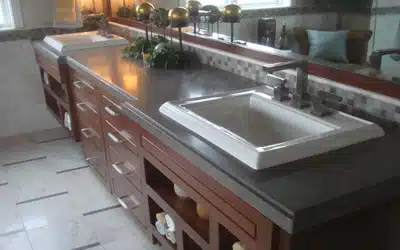 Travertine is the stage of limestone when it is evolving into marble. More resilient and stronger than limestone, travertine countertops are becoming the first choice of interior designers and homeowners who are looking for a cheaper alternative to marble.
Have a look at some of the designs we've done with travertine countertops in Normandy Park to get an idea of how the stone looks and feel. In addition to being used for countertops, travertine is also used in the form of:
Tiles
Backsplash
Bathroom surrounds
Once installed, we will provide all travertine countertop maintenance so that your investment lasts and serves you for a long time. If you are still skeptical about travertine countertops, research the travertine countertop pros and cons to make an informed choice.
Normandy Park Travertine Tile
Along with travertine countertops, we recommend that you use travertine tile in your kitchen and bathroom. The travertine tile can be used on the floors as well as for the bathroom surrounds. Choose from a variety of patterns, designs and colors of travertine tile for your Normandy Park home.
Total client satisfaction is what we work for, which is why we never consider our work complete unless the client assures us they are 100% happy with their project. As a trustworthy company offering travertine tile installation in Normandy Park, we guarantee our customers receive:
The best services
Reasonable pricing
Timely completion of work
Get in touch with our experts to learn more about travertine tile care and cost.
Feel free to call Allied Marble Granite, Inc. at (206) 453-2766 for travertine countertops installation in Normandy Park.