Granite Fabricators for Home and Business Granite Projects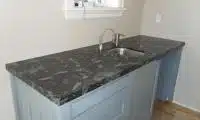 If you are planning to have any granite installations done in your home or commercial establishment, make sure to bring the right granite fabricators on board for the project. Poor granite fabrication can ruin the appeal of even the finest quality granite slabs.
Get in touch with Allied Marble & Granite Inc. for the services of well-trained and skilled granite fabricators in Renton, WA. As a one-stop shop offering comprehensive solutions for all kinds of granite projects, we are well-equipped to provide you the superior granite fabrication services that you want.
Our granite fabricators are proven pros and can be trusted for exquisite work that is done to match precise measurements and bring out the full aesthetic as well as the functional potential of the granite slabs they work on.
You can hire our granite fabricators in the Renton area for diverse applications, including countertop and flooring projects for your:
Home
Office
Restaurant
Yacht
Granite Fabrication for Renton Bathroom and Kitchen Countertops
Making bathroom and kitchen countertops is a job that our granite fabricators specialize in. Beautifully-crafted countertops are a valuable addition to any cooking or bathing space. Such surfaces result from a well-defined countertop fabrication process that includes:
•
Taking accurate measurements of the countertop space
Cutting granite slabs into the precise size and shape required
Carving out space for sinks, faucets and other design requirements
Polishing the finished countertop
We take pride in our unmatched granite fabrication capabilities and assure Renton residents of elegant and efficient countertops for their properties. Our expert fabricators work with top-of-the-line granite fabrication tools to complete Renton countertop projects seamlessly.
Affordable Granite Slabs in the Renton Area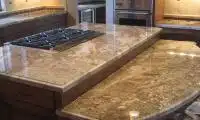 Are you out to shop for high-quality granite slabs in the Renton area to use for your residential or commercial granite project? Want to buy the finest materials possible but are hampered by your budget? Do not worry! We can help you get just the stone you want for your granite fabrication and installation project.
Our store stocks a wide variety of granite slabs at affordable rates. Offering products in the most popular granite colors and at competitive granite slab prices, we help you buy granite slabs that:
•
Appeal to your aesthetic sensibilities
Meet your project demands
Are within your budget
Want a free estimate on granite fabrication cost for your project? Wish to know the options in granite slabs available to you? Need to hire granite fabricators in Renton? Call Allied Marble & Granite Inc. at (206) 453-2766.