Marble Countertops Mercer Island • Bothell
Have you always looked and the luxurious beauty of marble countertops and had to shoo away ideas of ever having them for your home, because of the cost?
It's time to stop wishing, and start calling the Allied Marble and Granite.
Allied Marble and Granite has worked with marble countertops and marble backsplashes for nearly 40 years now.
We have hundreds of different styles, colors, and textures of marble to choose from.
Marble Countertops and Vanities
Marble Backsplashes as Tiles or Solid Stone
Hundreds of Different Marble Stone Types From Which to Choose
Repair and Restoration Services for Existing Stone
With Allied Marble and Granite, you have access to a beautiful showroom and experienced design staff, an expert installation team, and the best prices and value in town.
Marble Vanities for Bothell and Mercer Island Customers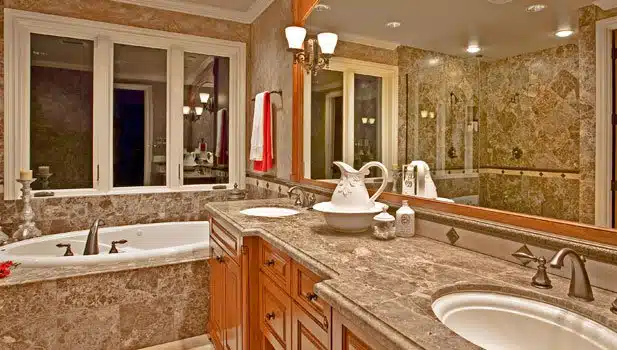 Many customers don't know all of the different marble vanity options that they have until they talk to our experienced design team.
They sometimes assume that just because marble is known for being a softer stone, that there is no way they could have marble vanities installed in their home.
Allied Marble and Granite understands that each type of marble has it's own hardness and some types can make the perfect marble vanities for your kitchen or bathroom.
Marble vanities are the perfect addition to any home, and can turn a rather plain bathroom or kitchen into an award-wining model of style.
Allied Marble and Granite has many clients around Bothell, Mercer Island, and all over Puget Sound, that we have created beautiful and long lasting marble vanities for, and are more than happy to show you our portfolio.
Why us for Marble Countertops, Marble Vanities, Marble Backsplashes?
Allied Marble and Granite is committed to each client and their ultimate and complete satisfaction with whatever stonework we complete in their home.
We have a 100% satisfaction guarantee and are not satisfied until you are entirely pleased with the entire project.
Years of Experience with Marble Countertops and Vanities
100% Satisfaction Guarantee on Everything we Install
Beautiful Showroom and Experience Design Team on Staff
All of our products, including our marble countertops, marble vanities, and marble backsplashes, are reasonably priced, and when coupled with our high level of craftsmanship, bring your home the best value around.
Give the pros at Allied Marble and Granite a call and take advantage of our free design consultation. Our experts will help you find the perfect marble countertops or marble vanities to give your home the look you've always wanted.